Luxury in Wilderness
---
---
---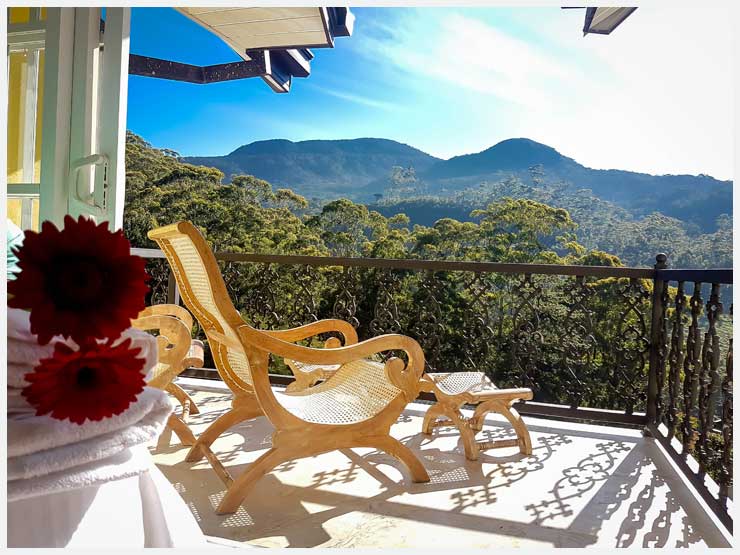 In a place known as the little England amidst temperatures similar to what is in Europe lies a newly found gem that offers everything what this part of the Sri Lanka has to offer. Nuwara Eliya is where locals and foreigners alike visit for few days to get away from their busy life styles and perhaps to do nothing else but to relax.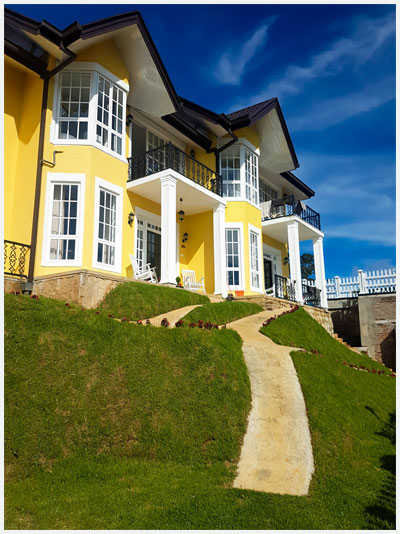 Luxe Wilderness Nuwara Eliya opened only on September 2017, located just 2 km from Nuwara Eliya town on the main Kandy road near an area called Bambarakelle. Anyone traveling on Kandy road from Nuwara Eliya can't afford to miss the lovely structure in 'yellow' situated on a mountain top. At the property you will be offered with one of the best views perhaps anywhere in the world can offer. Views of Mount Pedro, the wilderness, tea plantations, Nuwara Eliya city, Lake Gregory, Haggala mountain range, Single tree mountain range and vegetable plantations just to name a few.
The name Luxe Wilderness in itself reflect that the fact that you will enjoy luxury while being with wilderness. Manager of the property Nalin and his team will do everything they can to make your stay comfortable from the moment you arrive. There are 3 identical villas under one roof which all consisting of 2 stories and 800 sq ft just for yourself. A maximum capacity of 4 adults can accommodate in each villa.
Despite being in the middle of area where there are about 4 other residential houses and not so far away from Nuwara Eliya town The Luxe Wilderness also offers great privacy. Unless you wish to explore the surrounding area where the team will happily take you through a walk on the tea plantations and the closely located Hindu temple, you get everything you need to spend your time within the villa. Luxe Wilderness already hosted number of high profile clients who wish to have solid private time without getting caught up in the public eye. And it has already become a hot destination for honeymooners from all parts of the world. If you are visiting for a special occasion such as honeymoon, birthday, anniversary or even a surprise, the team will do whatever it takes to make your special day even more memorable.
Each Villa consist of 2 stories where the downstairs offer a living area and a fully functional kitchen. Upstairs offer the bed room and the bathroom. The kitchen have already proven to be a hit with many tourist who stays for longer stays. The kitchen had made them to be 'locals' where they shop for groceries and come back and settle for a nice meal prepared themselves at their convenience. Also at the very entrance of the Luxe Wilderness there are these famous vegetable shop by the road offering all kinds of fresh vegetables that Nuwara Eliya has to offer. Luxe Wilderness offers complimentary breakfast for all visiting guests, however it does not have a restaurant, for Lunch and Dinner, most guests order from the take-away menu where the choices are plenty.
Villas at Luxe Wilderness also offers unprecedented array of entertainment options for you to feel at home. Sound system which connects to Bluetooth makes you enjoy your favorite music while being away or simply listen to a radio station of your choice. Upstairs the 49 inch TV offers all HBO channels and there are plenty of children movies which are pre-loaded to keep young travelers occupied while parents enjoy some peaceful time.
Luxe Wilderness offers only Bed and Breakfast rates and its offering a special introductory rates for Sri Lankans during its first year for Rs. 18,000 for 2 adults subject to further discounted amount of Rs. 16,000 for 2 adults during low seasons. You can make a booking by simply calling the below numbers and with an advance payment.
Regardless of the walk of life that you represent all of us need a break in our life to relax, free our mind and spend quality time with the ones we love the most. And perhaps there is no better place to do so than spending your precious time in mids of cool climate, fresh air, breath taking scenery while enjoying luxury that you deserve.
Luxe Wilderness is located at
No 465/1, Kandy Road, Bambarakelle (near 63rd km post),
Nuwara Eliya
0769780473
---
---
---